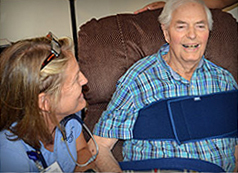 To speak with a member of our team, call us at 704-983-4216 or 800-230-4236.
Hospice of Stanly & the Uwharrie is here to offer you and your loved one support at journey's end.
Anyone can make a referral to Hospice of Stanly. Our admissions team is available to speak with you and help you determine if hospice care is right for you and your loved ones.
We can help determine insurance coverage for hospice care and explain the varying levels of service we provide.